"When you are clear, the business results you are looking for will appear and only to the extent you are clear."- Chris Attwood and Janet Bray Attwood
A Tool that Changes Lives:
The Passion Test® is a simple, yet powerful tool to help anyone discover the things that matter most to them in their life. Chris Attwood and Janet Bray Attwood, co-authors of the #1 NY Times bestselling book, The Passion Test – The Effortless Path to Discovering Your Life Purpose, have helped tens of thousands of people to discover their passions and begin living their life-purpose.
Is Now Changing Business:
Just as every individual has unique gifts and a unique purpose in life, every company provides a unique contribution to its customers, clients and to the world. That unique contribution is the company's purpose for being.  Through our proven process, we identify your company's unique contribution and build on what sets your business apart from the marketplace and industry. Secondly, we work with you on gaining clarity on what matters most.
Contact Ulrike for more information on how to transform YOUR business
Clarity transforms our life and leads us to take inspired actions toward our goals
When we feel passionate about something, we have, often dormant and unexpressed, skills and talents in that area, we have knowledge and ideas.
"Passion fuels confidence, creates excitement and is contagious!" David Lucatch, CEO
Improved leader and employee engagement, innovation, growths, profit and sustainability result when we get clarity in the three key areas through a proven process:
Leaders and Employees: People are a company's greatest asset. Identifying what matters most to the leaders and employees in all aspects of their work life is the catalyst for goal-achieving actions. Actions lead to results.
Company: Building the company strategy based on what matters most for the business to assure growth, success and sustainability. This process allows us to align employee needs with company goals. It uniquely positions the company in the market place and sets it apart from others in the industry.
Customers / Clients: What matters most to the customers to be able to exceed their expectations consistently builds a growing number of loyal customers.
Contact Ulrike for more information on how to transform YOUR business.
This process is extremely powerful for:
Entrepreneurs (Solopreneurs)
Small businesses
Large corporations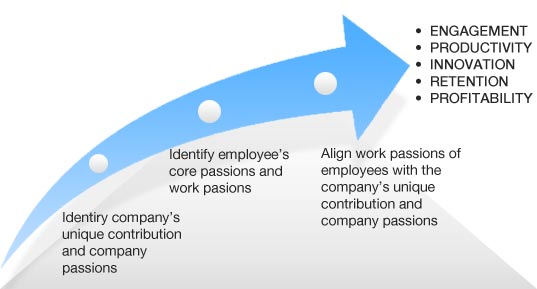 Just as individual passions are defined by the things that matter most, a company's passions are statements of those things that matter most for the company to deliver its unique contribution, and which are expressed with an elegant simplicity that inspires passion.
By Creating Full Engagement:
Our proven process offers now entrepreneurs, leaders and companies of any size the ability to systematically create alignment between peoples' work passions and the mission and vision of the company. The result is a passionate, engaged leader and workforce, made up of people who are excited about coming to work every day. That maximizes productivity, innovation, retention and bottom-line profits.
"It's a competitive imperative. Only by loving what you do will you actually do more and do it better than the person sitting next to you."
~Larry Bossidy, former CEO of Allied Signal and Honeywell.
Author of Execution: The Art of Getting Things Done
"People say you have to have a lot passion for what you are doing", Steve Jobs on Work Passions

As solopreneur, you are your greatest asset and you can experience similar issues like the employees noted below if you are not clear about and in sync with your business purpose, passions and priorities. 
Engagement
Many studies have proven that the major characteristic of an "engaged" leader and employee is having passion. When they feel a strong connection or relationship and understand how they fit into the organization they are passionate about what they do. When the connection is missing or the relationships are unhealthy they feel there is no connection and therefore are not committed to or vested in the success of the organization. There is much to be said for attitude being more important than aptitude.
By utilizing our proven processes, you can create a culture where you have an engaged, enthusiastic work environment which is one of the first critical steps to a successful, thriving business. The objective is to turn the statistics around; have the majority of your people fully engaged as opposed to being not-engaged or actively disengaged.
Engaged and Inspired Leaders and Employees 
Gallup shares that actively disengaged employees cost their companies significantly. Only actively engaged employees work with passion and feel a profound connection to their company. They drive innovation and move the organization forward.
Companies need leaders who value both performance and inspiration, just as a great place to work require both high performance and high engagement.  The art of inspirational leadership allows to manage individuals to their full potential, build and lead truly great teams, and connect a team or individual's mission to the company's overall purpose.  But many people do seek fulfillment in their jobs. If you aren't trying to inspire these employees, you are leaving real money on the table (Garten and Mankins)
Health
Actively disengaged employees report more unhealthy days, engaged employees are less likely to have health issues according to Gallup studies. The recent Mayo Clinic study notes that 55% of physicians show signs of burnout and 39% screen positive for depression.
Productivity
When people are fully engaged, they are naturally going to be more productive and creative.  They understand the culture and vision of the organization and are focused and committed to progressing and achieving that dream. They are excellent at what they do, effective and able to balance work and life. Active disengagement negatively affects productivity according to Gallup studies.
Engaged employees involve customers in the innovation and improvement process, they share new ideas with customers and do what is right for the customer. Gallup's employee engagement research has consistently shown a connection between employee engagement and customer engagement. One factor that can influence customer engagement is an employee's willingness to change — or to "learn and grow" — to meet the customers' changing needs.
Our process transforms organizations in support of sustainable engagement by way of a culture change in the organization.
Contact Ulrike for more information on how to transform YOUR business.
What Clients Say Who Experienced ASAP Engagement – The Passion Test for Business Approach: 
Before working with Ulrike, I thought I had a pretty clear understanding of the goals and direction of my business. But in reality, I was working hard on tasks, but not taking time to understand the core values of my business and the ideal clients I wanted to serve. By working with Ulrike and applying principles from The Passion Test for Business, I discovered the top values that matter most to my business and set clear goals and action steps. I now have confidence in the direction of my business and am on the path to exceptional results!
~ Kevin Howell, Writer, Editor, Journalist @ On Point Editing"
"I reached my goal and it's all because of you and your Passion Test! When we started this process I was struggling to make payroll…now I paid off my loans, added new equipment, hired more staff, and took three months paid personal time to travel and enjoy!!! Through this process I learned to identify and set my goals, personally and professionally, consistent with what matters most to me, my values and my passions. This helped me to see things from a different perspective, free myself from unnecessary stress and brought clarity to my plans for the future, much more than if I would have tried to do it on my own. Today I am focused, calm and confident. I am excited about my progress and am confident about the continued growth and success for me personally and for my company."
~ R. K., Physical Therapist, CEO and Company Owner, USA
"Ulrike Berzau took me through the passion test for business and within one month after getting clear on my business I taught my program at the library , I got a job to teach my program at a local nursing home once a month, I was honored to be in SD women's magazine and interviewed in the women of distinction section. I started a nonprofit so I can give back 10 + percent of my earnings to people, organizations and charities. And my dream has been to get paid to travel the world , speak and train and this summer I was asked to perform in Berkley for an event as well as I am booked to teach and perform in Detroit, Florida and Spokane so far. Looking for more amazing opportunities to present themselves because I am clearer on my business goals and I am developing successful strategies all because I took the PTB course. Ps did I mention how FUN it is to help people create elegant phrases and their mission statement and tag lines! And to see their face light up cause they now feel passionate about their business! And can now attract their perfect customer and be of service!"
~ Nadirah R Bray, Goddess in Motion, San Diego – Client and Training participant
Others say:
I feel more focused and driven than I have in a very long time.
It is an invaluable process that should be part of everybody's path to achieving their goals.
The exercises for finding your passions / priorities bring clarity and intent, making it easy to identify what is coming from your head not your heart. Thanks, I'm willing to bet you just changed my life!
This was a major breakthrough for me personally and professionally.  I did not fully realize how inauthentic I was "being" in my business; thinking that I had to be what my clients expected me to be. 
The process helped me get crystal clear and focused on what matters most for me, my business and for my clients.  I will never lose control of my purpose-driven, passion-filled business.
Using the system, has helped me get really clear about what I loved most about being a jeweler. I love creating custom pieces for clients! So I redesigned the layout of my store and updated my marketing plan to attract more of my ideal customers. As a result, November was our best sales month and 100% came from custom or repair work. AND December was our best month in FIVE years!!! 
The results hit me like a lightening bolt. My business has increased by 50% through referrals from clients that love my work. Now, I hardly ever worry about cash flow. The results I achieved through the Passion Test also impacted my personal life in ways that I never would've imagined. 
A business with everyone on the same page and working toward the same objectives—how awesome and exciting for a business!
It also left me with clarity on a number of levels: I saw for the first time what my personal contribution is – both in terms of skills and creativity – and this was a great boost to my self-confidence. 
Provided clear strategies and pathways that I could immediately use to maximize the success of my business and to build the dream further. I came away, not befuddled by jargon and business theory, but with a few pages of notes, some precise goals, some straightforward tasks, a clear sense of direction and a huge amount of enthusiasm – passion! – for what I'm doing.